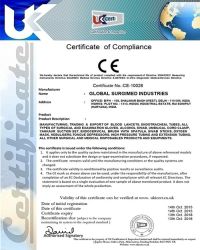 Global Surgimed Industries has gradually marked its place amongst the top companies dealing in Medical Products. The high demand of these Medical Products has led us to the inception and we have been successfully catering to the requirements of the clients residing across the globe. The comprehensive range of Medical Products includes, Disposable Surgical Products, Gastroenterology Products, Infusion Therapy Products, Urology Products, Respiratory and Anesthesia Products, Surgery, Wound Care Products, Vessel Cannula, Hospital Garments & Intercostal Drainage. Being an ISO 9001-2008 Certified Manufacturer, Exporter and Supplier, the company endeavors to deliver the best Medical Products throughout the world.

Apart from dealing in the unmatched Medical Products, we also provide valuable consultancy services for setting up the new manufacturing unit at the client's site, their product development, and many others. Satisfying the clients by offering them the consistent quality Medical Products and expert services, is one of our prime objectives. We are providing the consultancy for trouble shooting of existing products of our parties. Our expertise lies in offering following products such as :
I V Cannula production line
I V Set / Measure volume set production line
Blood Bag & Blood components Management Systems production line
Blood lancet production line
Urine Bag (All Design) production line
Central Venous Catheter production line
Endotracheal Tube with and without Cuff Production line
Geudal Airways All sizes production line
Chest Drainage Catheter/ Tubing production line.
Further, we can provide moulds & assembly machine for above production lines. Read more...